Deep-Sky Astro­photo­graphy
CXIELO Obser­vat­ory is a remote-obser­vat­ory loc­ated in South­ern France and is a mem­ber of ROSA (Remote Obser­vat­or­ies South­ern Alps), foun­ded 2008 by Daniel Marquardt and Karel Teuwen. It is a rol­loff-roof obser­vat­ory host­ing an RCOS 14.5″ scope and a Taka­hashi FSQ-106EDXIII car­ried by an ASA DDM85 mount. On both tele­scopes, a CCD cam­era with KAF-16803 sensor is used with Astro­don Gen2 LRGB and Ha (5nm), OIII (3nm) and SII (5nm) fil­ters. The dif­fer­ent focal length of the two teleso­pes res­ults in 40'x40' and 3.5°x3.5° field of views.
Deep-Sky Astro­photo­graphy allows me to exper­i­ence the beauty of the sky. The pro­cessing of the images is like a med­it­a­tion for me – tak­ing the time to make the fine details of galax­ies and neb­u­lae vis­ible is a gift.
"Look­ing at the nights sky is an exper­i­ence touch­ing every­body deeply inside some­thing com­mon to all human beings inde­pend­ent to the lan­guage spoken by the individuals".
There­fore Deep-Sky Astro­photo­graphy is my passion.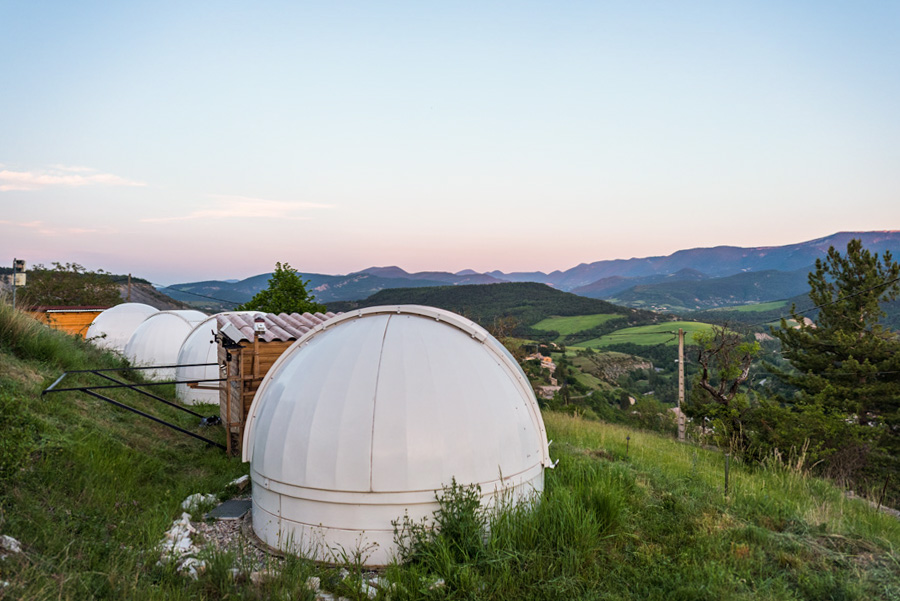 In sum­mer 2008, I was trav­el­ling for the first time to South­ern France at the place, where my friend Daniel Marquardt had built his remote obser­vat­ory. Help­ing him final­iz­ing the setup, the idea to build my own obser­vat­ory next to his dome came into my mind. Look­ing at the dark night­sky with the Milky­way touch­ing the hori­zon removed all my concerns.
Begin­ning 2009, the pre­par­a­tion of the ground and found­a­tion for my roll-off roof obe­ser­at­ory begun. Since March 2009, my obser­vat­ory is oper­a­tion­al and I am col­lect­ing photons whenev­er the sky is clear.
I am vis­it­ing the place mut­liple times a year for main­ten­ance of the install­a­tion and enyo­ing the nature and the night­sky. It became my second home.